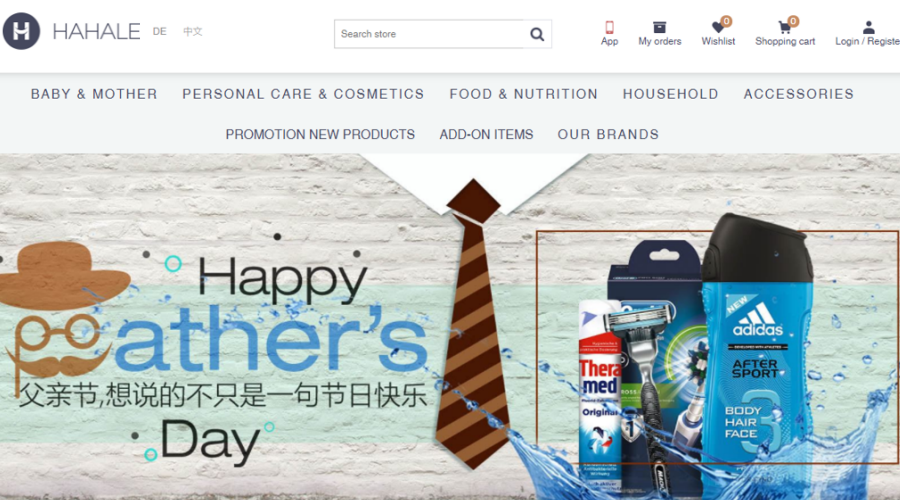 Considering dramatically growing demand of cross border online shopping, Betterlife group started HAHALE project to build and launch Hahale.com – a Direct Shipping Cross border eCommerce website to provide premium German products with competitive price.
Require a shop system to manage hundreds of brands and thousands of products and support product data autofill (product description, price, inventory, weight and size, etc.).
Establish a complete order fulfillment process to ensure users can receive order parcels in 3 weeks from the warehouse in Germany.
Require a calculation system to calculate total order value including the shipping fee and import tax.
Payment system to have users to pay in CNY and clients to receive in Euro.
Pre-launching marketing plan to grow fast.
Prepared a western look/feel and sophisticated website design while adding Chinese elements with frontend features and promotion tools more suitable for Chinese users.
Mobile Registration
Infographics to introduce product features
Branding. Drafted and finalized a brand story and company mission.
Online store development. Developed a seamless integration between Shop System, ERP and WMS to identify payment/order status and trigger corresponding procedure.
Designed and developed plug-in to calculate shipping fees and import taxes for each shopping cart.
Social Media Marketing. Registered WeChat/Weibo Accounts and posted original articles of German culture, a 101 guide of cross border shopping, tips for choosing infant formula.
Started a WeChat Group to grow and maintain seed users.
Delivered a full-functioning cross border eCommerce shop in 6 months.
Shortened order fulfillment period from 4 weeks to 2.5 weeks with one step custom clearance.
Gained 500 seed users in 2 weeks before soft launch.
Achieved average read of each article to 1,000 on WeChat after 1 month of content marketing.
Enabled Credit Card and Alipay Payment systems to be user friendly for Chinese buyers, German sellers can settle payments in Euro.
Increased user growth in the target 25-39 year-old affluent demographic.