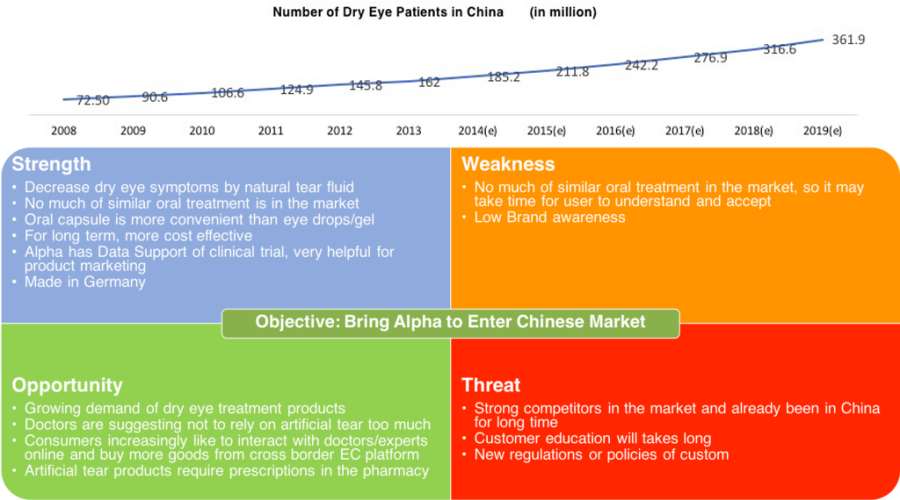 For imported nutrition/healthcare brands, only feasible solution to start selling activity without "Blue Hat"registered at CFDA, which takes years and quite a lot of money for each SKU) is through cross border eCommerce channels.
Before officially entering China, client wants to conduct Market Resarech to prove feasiblity and Market opportunities.
Also requested to consult on selecting eCommerce platforms, Go-To-Market Strategy and Digital Marketing Strategy.
Client's Alpha Capsules achieves restoration of lachrymal gland via oral administration.
Previously XYZ entered dry eye market in Germany as private label, now with brand name of "Alpha", it's available in many pharmacies and online shops in Germany.
Educate Chinese users on the Alpha brand and product.
Distribute Alpha on China EC platforms.
Brand awareness via social media and search.
Market Research and SWOT Analysis
By 2019, approximately 361.9 million people will face dry eye symptoms in China.1
In 2015, total cross-border online retail reached 248 billion CNY, it will grow to 1,505 billion CNY, 20% of products on Tmall Global are from Health Care(including Nutrition) category. 2
Trend shows that China's dry eye patients are getting younger and younger. 3 Yong generation tend to learn from online and also buy goods online.
Content preparation is critical.
Localize brand name, brand story, company history and product description.
Design clean and convincing product page and infographic for digital marketing and EC platforms
Design and develop a minisite for mobile users
Digital Marketing
Social Media – create WeChat OA and Weibo account and post prepared contents
Search Engine – Baidu

Create Baidu Wikipedia page
Interact on Baidu Tieba (online community) & Baidu Zhidao(Q&A community)
Post product recommendation on shopping guide websites

KOL marketing

Ophthalmologist on medical consultation APP – such as Chunyu Doctor, haodf.com
Interact with KOLs on zhihu.com
Eye care product related buyers on "Red Talk".
EC Platforms, Pricing and Promotions
Pricing: Not too aggressive, but set attractive margin for EC Channel
CN retail price is 45% higher than DE retail price.
High margin to EC platforms to make it attractive, also to make sure there is enough room for sales promotion on EC platforms.
Leave enough margin to wholesaler to support business development activities.
After compared 30 EC platforms and Cross-border EC platforms, narrowed down to 7 platforms.
JD.com, Suning, Kaola, Red Talk, 1Yaowang, B&G, Tmal